*  BRO FOR EDUCATION
BRO-Ed Application Forms are available at the Office of the MPDC, 2nd Floor of the Municipal Hall Building.

𝙃𝙚𝙖𝙙𝙨 𝙪𝙥, 𝘽𝙍𝙊!  U𝙢𝙥𝙞𝙨𝙖 na 𝙣𝙜 𝙨𝙪𝙗𝙢𝙞𝙨𝙨𝙞𝙤𝙣 𝙤𝙛 𝙧𝙚𝙦𝙪𝙞𝙧𝙚𝙢𝙚𝙣𝙩𝙨, 𝙞𝙣𝙩𝙚𝙧𝙫𝙞𝙚𝙬 𝙖𝙩 𝙤𝙧𝙞𝙚𝙣𝙩𝙖𝙩𝙞𝙤𝙣!
Ipinagbibigay alam ng Pamahalaang Panlalawigan ng Isabela na ngayong tapos na po kayo sa inyong online pre-registration, panahon naman po na mag-submit kayo ng inyong requirements at sumailalim sa interview at orientation para sa inyong BRO-Ed New Applications/Renewal para sa 1st Sem, S.Y. 2023-2024.
Narito ang listahan ng mga maaaring magpasa ng kanilang mga requirements base sa nakatalagang slots sa kanilang bayan:
Ang mga nasa listahan lamang ang maaaring mag-submit ng mga requirements. Ngunit hindi ibig sabihin nito na pasok na agad sa final list of scholars dahil subject to verification pa rin ang mga requirements na ipinasa.
Sundin lamang po ang sumusunod:
𝙆𝙤𝙢𝙥𝙡𝙚𝙩𝙪𝙝𝙞𝙣 𝙖𝙣𝙜 𝙢𝙜𝙖 𝙨𝙪𝙢𝙪𝙨𝙪𝙣𝙤𝙙 𝙣𝙖 𝙧𝙚𝙦𝙪𝙞𝙧𝙚𝙢𝙚𝙣𝙩𝙨 𝙣𝙖 𝙠𝙖𝙞𝙡𝙖𝙣𝙜𝙖𝙣𝙜 𝙞𝙥𝙖𝙨𝙖 𝙣𝙖𝙣𝙜 𝙥𝙚𝙧𝙨𝙤𝙣𝙖𝙡:
1. Accomplished BRO-Ed Form (Printed & Signed mula sa online pre-registration)
2. Brgy. Certificate of Indigency OR DSWD 4Ps Certification
3. Senior High School Report Card or Certificate of Grades Signed by the Registrar
4. Photocopy of Assessment/Enrollment Form
5. Photocopy of Voter's ID/Certificate
𝙄𝙥𝙖𝙨𝙖 𝙖𝙣𝙜 𝙢𝙜𝙖 𝙧𝙚𝙦𝙪𝙞𝙧𝙚𝙢𝙚𝙣𝙩𝙨 𝙨𝙖 𝙥𝙞𝙣𝙖𝙠𝙖𝙢𝙖𝙡𝙖𝙥𝙞𝙩 𝙣𝙖 𝙤𝙥𝙞𝙨𝙞𝙣𝙖 𝙨𝙖 𝙞𝙣𝙮𝙤𝙣𝙜 𝙡𝙪𝙜𝙖𝙧, 𝙢𝙖𝙜𝙥𝙖-𝙞𝙣𝙩𝙚𝙧𝙫𝙞𝙚𝙬 𝙖𝙩 𝙤𝙧𝙞𝙚𝙣𝙩𝙖𝙩𝙞𝙤𝙣.
1. CITY OF ILAGAN: Provincial Capitol Cmpd., City of Ilagan, Isabela
2. SAN PABLO: PGI Extension Office, Ballacayu, San Pablo, Isabela
3. CABAGAN: Municipal Hall, Cabagan, Isabela
4. CAUAYAN CITY: PGI Extension Office, FLDy St. District 1, Cauayan City, Isabela
5. ECHAGUE: PGI Extension Office, San Fabian, Echague, Isabela
6. JONES: PGI Extension Office, Jones, Isabela
𝙈𝙖𝙝𝙖𝙡𝙖𝙜𝙖𝙣𝙜 𝙥𝙖𝙖𝙡𝙖𝙡𝙖:
1. Sa semester pong ito (1st Semester 2023-24), prayoridad ang mga sumusunod:
*NAKAPAG-REGISTER ONLINE
*ANAK NG SMALL FARMER/INDIGENT
*WALANG BAGSAK
*RENEWAL
2. Mahigpit pong ipatutupad ang Schedule of Activities para sa new applications o renewal ng inyong scholarship.
Basahin ang post na ito para sa mga schedule at instructions para sa semester na ito:
Maraming salamat, BRO!
*  FREE LEGAL CONSULTATIONS & LECTURES
MAAWIS KAYO AMIN NGA TAGA-CABATUAN
FREE Legal Consultation & Lectures
FREE Notary (Personal Appearance is required)
July 15, 2023 @ 8:00AM – 12:00 HIGH NOON
Cabatuan Social Hall
IBP-Isabela Chapter & LGU-Cabatuan Partnership
*  SHARE BLOOD, SHARE LIFE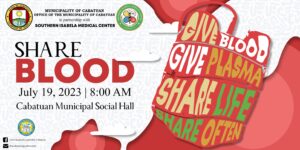 HEADS UP!
"Magbigay ng dugo at gawing mas malusog ang ating mundo."
BLOOD DONOR QUALIFICATIONS:
1. Must be at least 18 to 59 years old
2. Weight at least 110 lbs or 50 kilograms
3. Hemoglobin must be at least 125 g/dL (to be tested on the day of blood donation)
4. Must have a normal blood pressure, pulse rate, respiratory rate and body temperature on donation day.
5. Be in general good condition.
6. No alcohol intake within 24 hours prior to blood donation.
7. Have enough sleep and rest prior to donation.
8. Have not taken aspirin or aspirin-containing medications within 3 full days prior to donation.
9. You cannot donate if you have cold, flu, sore throat, cold sore, stomach bug or any other infection.
10. If you have recently had a tattoo or body piercing you cannot donate for 1 year from the date of procedure.
*Please don't hesitate to approach any of our health staff or our Barangay Health Workers for the listing or any query. Please share this info. Thank you!