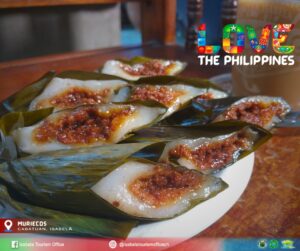 MURIECOS (OTOP – ONE TOWN ONE PRODUCT)
Municipal Resolution No. 2007-73
Sponsored by : SB Marval Crisologo
Co-sponsored by: SB Troy Alexander G. Miano
A resolution identifying "Muriecos" as the official one-town-one-product of the Municipality of
Cabatuan, Isabela.
"MURIECOS" is a native delicacy locally produced and manufactured in our humble municipality and
is being marketed to different towns, cities, provinces and even abroad. This is manufactured out of
locally produced ingredients such as ground malagkit, peanut, coconut milk and sugar and is
wrapped with banana leaves. SInce the said product has been conceptualized and manufactured
here in our town, it became a trademark of our Municipality and so, we could say that it is through
this product that our town will be known throughout the cpuntry and eventually will be known to the
whole world.